If you have designer clothing items and accessories, you want to treat them like the special items they are! They don't belong in cramped places where they could get wrinkled, dirty, or underappreciated, right ladies?
So here are 7 tips to help you glam up your clothes' home right in your own closet—with easy, simple products you have around your house!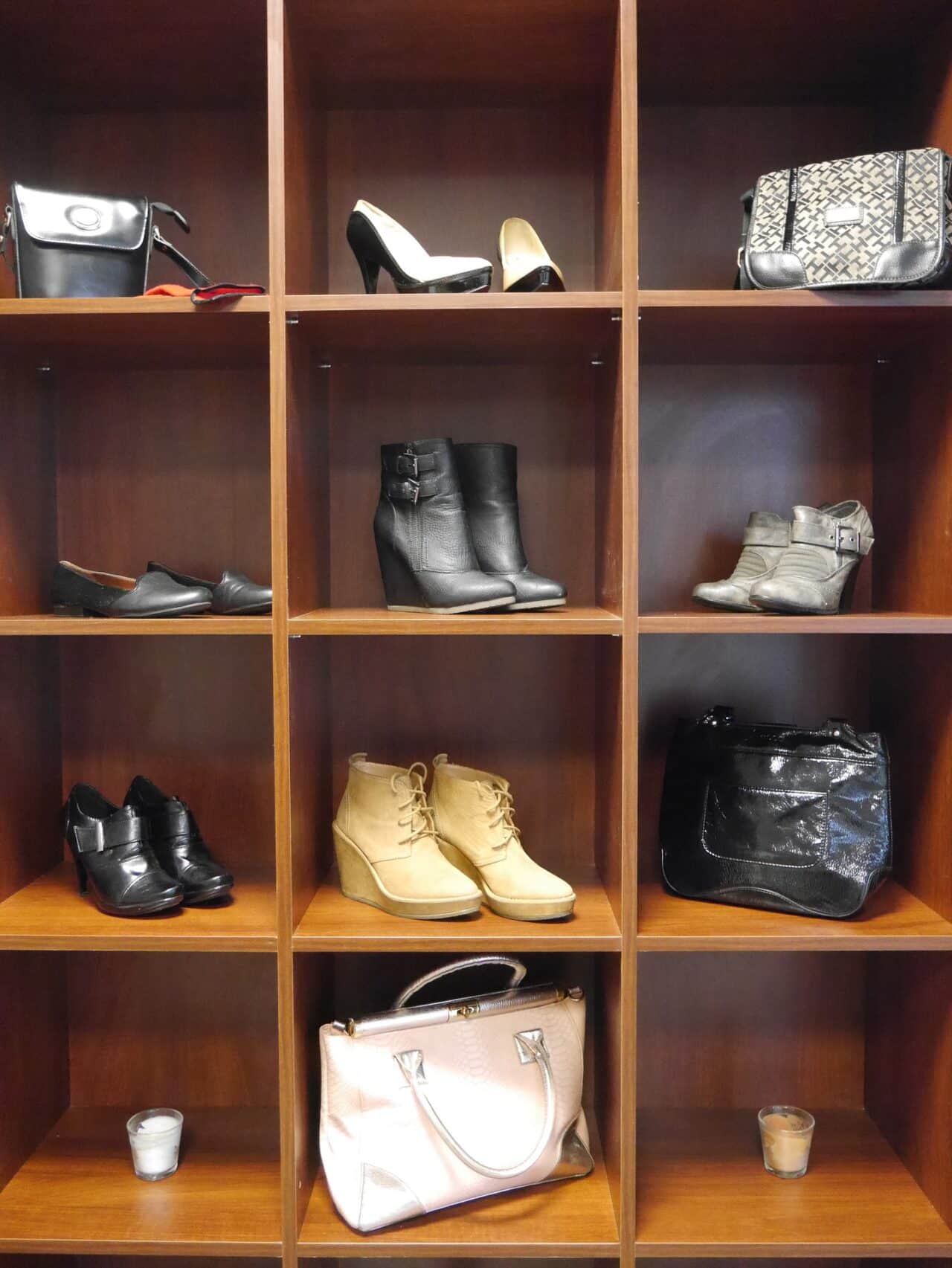 Fabric Hangers
Did you know that wooden and wire hangers can actually distort the shape of your clothing overtime, leading to permanent wrinkles and creases? Instead, opt for fabric hangers that grasp on to your clothes, so they won't fall, stretch, or wrinkle. Plus, they are thinner, so you can fit more into your closet! Can't say no to more clothing! (P.S. This is not true for clothing with shoulder pads, like suit jackets and winter coats, which do best with wooden hangers.)
Pool Noodles
Get your favorite color pool noodle, cut it up, and stuff it inside your boots and booties! This will help them stay upright naturally and avoid those lines and wrinkles that deeply set into your boots when they slump over in your closet.
Shower Tings
Denim is hot—and it will always be hot if you ask me! It may not be traditionally "luxurious," but it certainly is trendy and designer! But we always seem to fold our denim, which can cause marks and thinning of fabric.
Instead, hang shorts or jeans by their belt loops from shower rings in your closet! This will display them proudly and let you see what you have, rather than stuffing them into a drawer. It will also keep them free of discoloring and crease marks. You can also use this hack for hanging bags and belts!
Soda Can Tabs
With those shower rings means we need more hanging space! Use a soda tab to hang one hanger from another—giving you twice the room! This is also a pretty way to show off items that go well together, giving you pre-made outfits that are ready to go, first thing in the morning!
Floor Space
Now that you've used up all your hanging space, use your floor space! Stack shoeboxes, containers, and drawers on top of one another (so your closet looks like a Tetris game). You can buy inexpensive but gorgeous fabric drawers that can add some personality to your closet while also being functional!
(For example, you should put sweaters in drawers so they won't stretch out on a hanger.) You can also put containers on the shelf that's above your hanging rack. Store a stepstool in the closet so you can access these baskets easily without hurting yourself.
Label
Invest in a label maker and start labeling away! You can even go to a craft store and get gold labeling plates to make your closet look even more luxurious. It's important to label because it will ensure that your closet stays organized, and it will also help you find things in a pinch! Plus, it looks stunning.
Backwards Hangers
This is one of my favorite tips. After you reorganize your new closet, hang all of your hangers in the same direction (facing to the front). As you wear something, hang it back up with the hanger facing to the back. Those items that are still on frontward-facing hangers in 6 months or a year should be stored or donated to make room for the new!
We are trying to optimize closet space while also keeping clothes protected and luxurious. Even if you live in a small apartment with no space, you can have the lavish walk-in closet you've always dreamed about.
With just a few hacks, you'll have more space, more organization, and an aesthetically pleasing home for your beloved clothes!