The holiday season is filled with good cheer and time spent with loved ones, but it's also rampant with dry skin and static-y hair. You want to look your best during this magical time—but how do you stay fresh and chic while battling the harsh, dry air?
Below you'll find five ways to combat each of the worst winter weather complaints: a flaky face, dry hair, and static clothing.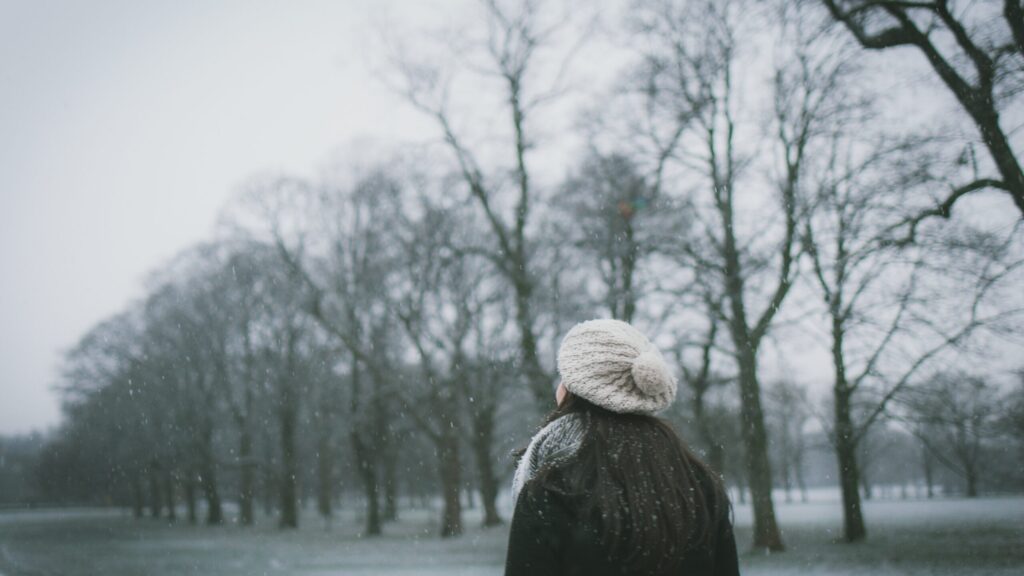 Flaky Face
Use gentle cleansers.
Steer clear of products with harsh chemicals or exfoliants. They strip your skin of natural oils that keep you moisturised and protected against the elements. Instead, opt for a mild soap or a milk-based cleanser that gently removes dirt and makeup. Limit exfoliating to once per week.
Use a cleansing oil.
Although we usually avoid oils at all costs, using a cleansing oil on your face can actually be a great wait to dissolve dirt, makeup, and impurities without leaving residue. It also preserves your natural oils while adding in extra moisture that your skin craves. Argan Oil is one of the best solutions for cleansing and conditioning, and it can be used for other purposes as well!
Moisturise often.
Of course the best solution is to moisturise your skin—but once a day isn't enough in the winter air. Get a portable bottle of moisturiser to throw in your purse, and try to apply it three times a day. Always massage it on whenever you enter a heated room from the cold—the change in temperature severely dries up your skin. Also make sure you moisturise right after your shower, so it can seep into your open pores before they tighten back up.
Drink water.
While the above three moisturise your skin from the outside in, staying hydrated keeps your skin supple from the inside out. Make sure you are getting enough water to protect not only your skin but also your other organ and muscle functions. The cold puts your body into overdrive, making you tire easily and crave more water. You can even opt for seltzer or hot tea to get more hydration—as long as hot cocoa isn't your only beverage.
Use a toothbrush for cracked lips.
When your lips are flaky, use a wet toothbrush to gently scrub away the dead skin. Apply a lip balm afterwards to keep your lips hydrated and fresh.
Dry Hair
Wear a silk scarf on your head.
To avoid hat-hair, wrap your hair in a silk scarf and put the hat on top. This cuts down on the static while also protecting your hair from damage.
Condition your hair.
Hair-static is caused by dryness and it creates dryness, creating a viscous cycle of unhealthy, unappealing hair. Keep your hair moisturised by deep conditioning with a hair mask once a week. This helps to replenish and correct brittle hair, which reduces the risk of static and further damage. You can even use oil in your hair as a conditioner—the same oil that goes on your face can often go in your hair too!
Use heat products.
Fight static by styling your hair with products that are made for blow-drying, curling, or straightening. This will keep you hair resistant to the heat by locking in moisture.
Blow-dry less often.
Even though you're using the products in your hair, try not to blow-dry as often in the winter. Don't go outside with wet hair because you might get sick, but if you have the time, let it air dry at home. This will keep in the natural oils and protect your hair from any dehydrating heat.
Wash less often.
Just like blow-drying, washing your hair too often can dry out your locks. Try only washing your hair three or four times a week to give your head time to produce and absorb your natural oils, which protects against static and wind.
Static Clothing
Why does static-y clothing happen in the winter? Humid air acts as a conductor by allowing natural electricity to dissipate into the air. Dry, winter air, however, acts as an insulator that allows the buildup of electricity on the surface of objects—creating that shock or static we feel in the cold. How to prevent this:
Moisturise trouble areas.
Add moisture to any places where static cling happens the most, such as in between your legs. Adding "humidity" or moisture will stop clothing from sticking to your body.
Hide a safety pin in your clothes.
Even a small bit of metal, like a safety pin, helps to prevent the build-up of electricity. It acts as your own personal lightning rod. Pin it safely inside somewhere, out of sight and mind, and you'll be completely static free.
Use hairspray.
If you carry hairspray with you, you can spray a little on a static-y areas and the clothing will calm down immediately.
Carry dryer sheets with you.
If you are worried about putting hairspray on your clothing, you can also rub dryer sheets to remove static cling. This works to eliminate static within seconds, and it will give you a nice, clean smell too!
Wear leather soles.
Rubber soles create static cling by locking in the electricity from the air and the friction from your feet. Leather soles, though, act as a second skin and let electricity flow freely through your body, minimising static.
Cold air can dry you out and send unsightly static allover your body. Moisturise your face and hair to look revived and youthful, and reinvigorate your winter wardrobe without the electric charge. You'll own the look and feel of the season in no time!
What tips do you have to stay trendy and renewed in the cold weather? Let Victoria Arpels know here!