Suede over-the-knee boots are the 2017 version of the 90s legwarmers. They're both stylish and practical, and they open up the armoire-door to a whole new winter wardrobe!  It's a bold statement that will help you ring in the new year feeling daring, confident, and sexy!
How and why should you start rocking the fashionable over-the-knee boot trend? Here are some tips to wear this sultry style!
Winter Dresses
If you're anything like me, I miss my dresses when the weather gets cold. Even sweater dresses call for heavy-duty trousers underneath to protect from the wind, and that can create a bulky, unflattering appearance.
A pair of suede boots that goes up to your thigh will protect your bare legs from the elements. Now you can show off that long-sleeve dress without worrying about what trousers to wear with it!
Spring Shorts
Thigh high boots transition seamlessly from the cold to the warm, so you can wear them in those in-between months where footwear seems to range from snow boots to flip-flops.
Match them with a pair of shorts and a T-shirt for an updated grunge style.  You can wear a short or long jacket or sweater to create a unique design every time.
Slimming Effect
Because these boots fit snugly against the leg, they create a slimming and toning effect. Thigh highs are one of my favorite photo-ready looks—they seem to have a secret, magic ingredient that makes everyone look stunning!
If you have bigger calves, you can find a boot that zips or laces up the front—which goes perfectly with a bomber jacket!
These boots tend to dominate your lower half, but you can use that to your advantage! Here's how:
If you're shorter, rock the heel.
Adding heels will lengthen your legs and make you appear taller. A slim heel, like a stiletto, adds maximum, lengthening height at minimum weight. These boots can get quite heavy, so opting for a slimmer heel will allow better movement as you strut down the streets. A stiletto thigh high also adds a sexy, playful look to any attire—from work to a night out to a day shopping.
If you're taller, go flat.
Wearing a flat over-the-knee boot will accentuate your long legs and give you an effortlessly glamorous look. If you are shorter and want to wear flats, choose a boot that stops at the knee so it doesn't look like you're being swallowed up by your shoes.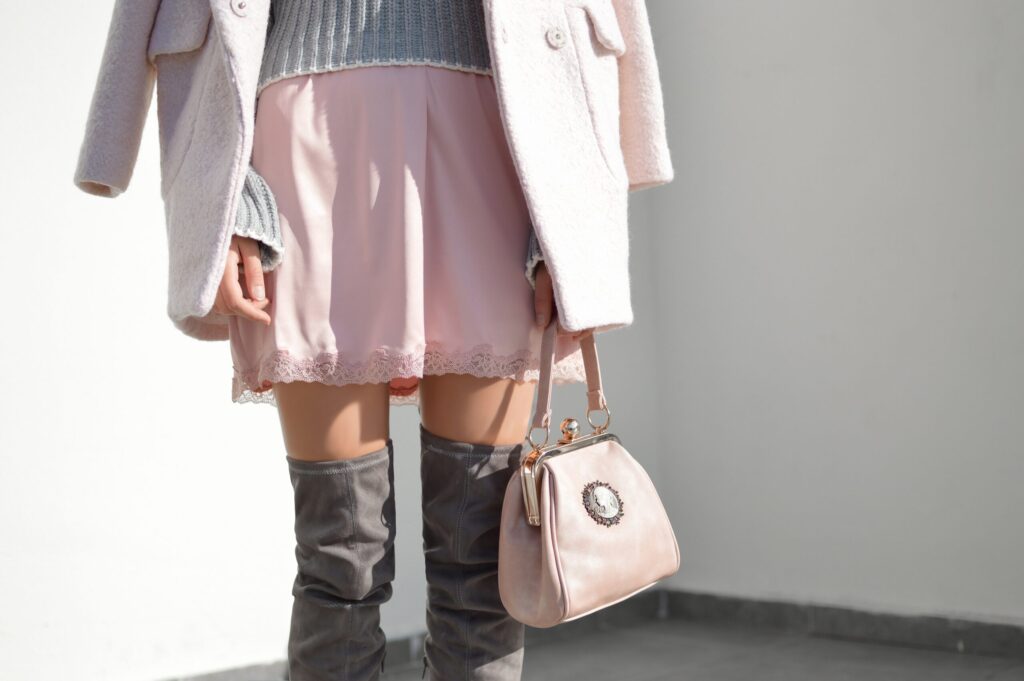 Texture Choice
You'll notice the title of this blog is "suede over-the-knee boots," and that's because I love suede! You can also get a leather over-the-knee boot, but I've found these to be harder to pull on and off the leg than suede. Plus, I love the look that suede gives to an outfit! It creates a wistfully romantic appearance that gives texture and dimension to the ensemble.
If you're worried about taking care of your suede boots, don't fret! There are a lot of easy methods to take care of suede that will keep them fresh for seasons to come.
Color Choice
You should buy the color boot that matches the color that you wear the most. It seems counterintuitive to buy shoes that exactly match the color your shirt—because then you look like a walking paint sample, right? But for suede over-the-knee heeled boots, sticking to the same color family is the best choice.
Suede thigh highs often come in grey, brown, cognac, or black—all neutral colors that can match with your outfit. If you wear a lot of brown, grey boots will never match. Wearing thigh highs that are the same color as your shirt, but a slightly different shade, gives a tonal look (which is hot this year). This gives off a chic and polished appearance.
My choice of thigh highs? Black! Black matches with everything and is extra slimming. You can wear your black boots with any vibrant or neutral color, making it the most practical color boot, if you ask me. I especially love the look of black, heeled thigh highs with a camel coat or red dress!
Over-the-knee boots will make you look as luxurious as you feel, giving a practical addition to a dazzling and desirable trend.
How do you like to rock this over-the-knee boot fashion statement?